---
August 21, 2021 — Here at Kurgan Compass™ we endeavor to bring you the best of myth-driven and otherworldly music, be that neofolk, dark ambient, or folk metal. This week we turn our ears towards new tracks from Darkher, Anilah, Fornsken, Hindarfjäll, and a new undertaking for Dutch-Frisian neofolk solo artist Kati Rán.
As per usual, the songs mentioned below have been added to the Kurgan Compass™ Neofolk Playlist on Spotify, which can be found and followed here.
Hindarfjäll's New Single Takes The Long Way Round
'Þat Mælti Mín Móðir (My Mother Told Me) feat. Peter Franzén' is a song that has been reimagined repeatedly since its debut on the hit TV show Vikings, in which it was sung by Harald Finehair (Peter Franzén) has made its way to Bandcamp in quite possibly one of its best renditions (yes, it is Vikings' Peter Franzén who is featured on the track.) While the song was originally composed by Wardruna's Einar Selvik, with words taken from a poem by Egil Skallagrímsson, the song has captured the imaginations of fans and artists alike.
Swedish neofolk band Hindarfjäll has combined modern production, ancient instrumentation, and the bone-stirring vocals of Peter Franzen to powerful effect.
On a side note, fans had access to this compelling song abruptly ripped away from them. Shortly after its initial release just under a month ago, as the band was unaware of Selvik's role in composing the original melody. As of this past week though, the release is again available to stream on all major platforms, including a moving, cinematic music video available on the Grimfrost YouTube channel (a successful e-commerce retailer that sells historical equipment and replica, founded by Johan Hegg of Viking-inspired metallers Amon Amarth).
Watch the official video below.
Kati Rán joins HAUK Studio From September
Dutch neofolk artist Kati Rán is embarking on a new journey, teaming up with Studio Hauk in Norway, an outfit renowned for its work with black metal artists. Kati announced the new position across social media with statements from both Hauk and herself. Firstly, the Bærum, Oslo located studio explained;
"We are happy to announce that from the beginning of September, both Kati Rán and Hauk will work at Studio Hauk. This broadens very much our ability to increase genres we work in."
Kati also added;
"I'm very pleased to start working as a studio assistant for studio HAUK and to expand on their services to further help shape their clients' dreams. I am excited to help artists, to learn more, and to dive deeper into the art of audio production."
Kati has a long experience working with studio engineers, recording her solo material at home and in the studios of fellow neofolk artists Heilung's Christopher Juul and those of Herbrand Larsen (former keyboard player and vocalist of Enslaved).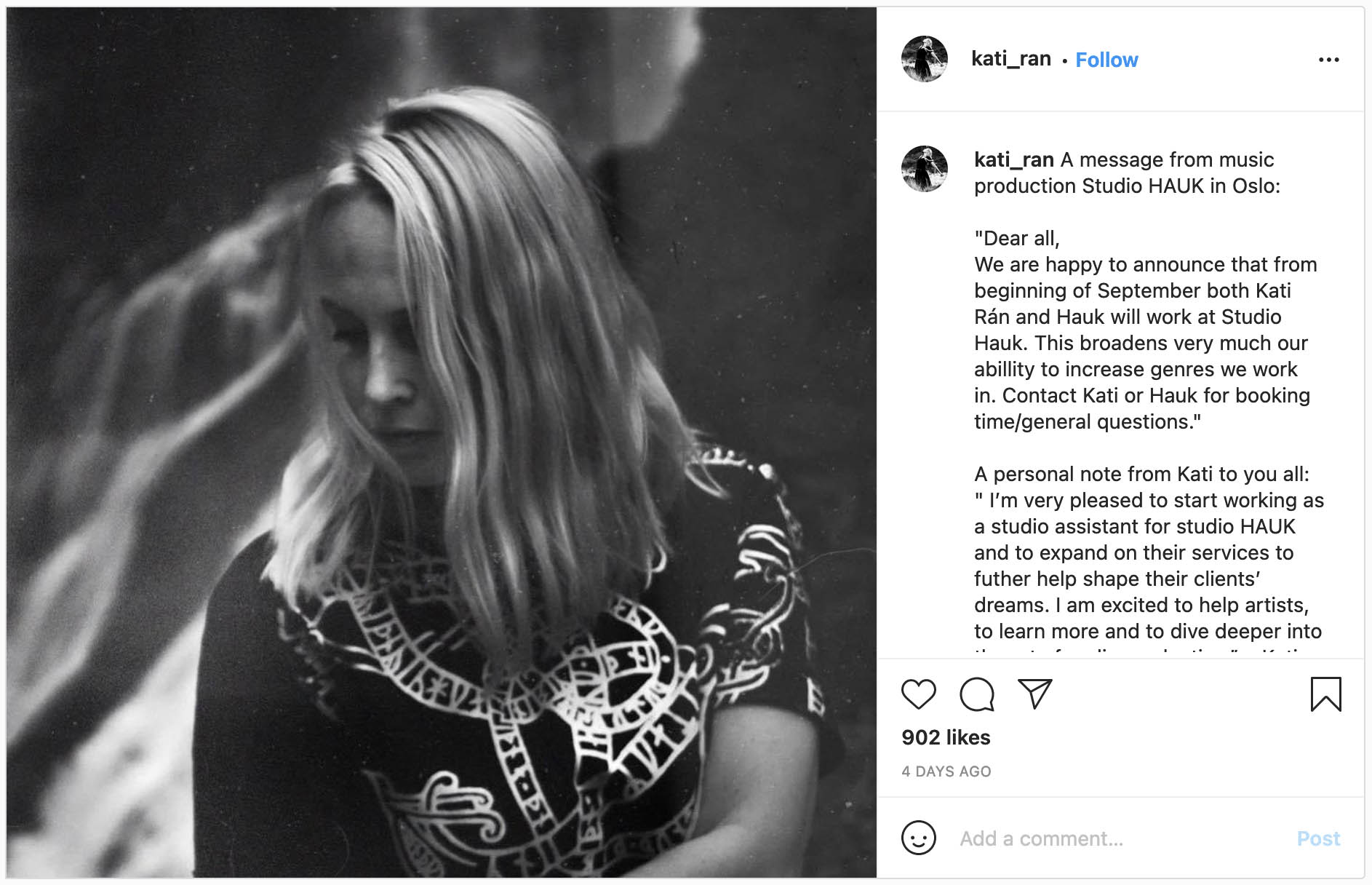 As we shared in our previous round-up, you can hear more from Kati Rán soon in the shape of her collaboration with Mörkriden's Bobby Sant and Sun and Moon Dance's Chris Welsh on the upcoming single 'Katten' from Skugga.
New Album Coming From Darkher
Darkher is headed up by West Yorkshire-based artist Jayn Maiven, who recently confirmed her long-awaited dark folk follow-up to 2016's LP release Realms is well underway. The announcement proclaimed "after almost 3 years in creation, a new album is completed and forthcoming", following the new material's recent mastering by Michael Zech (of sinister rockband Secrets Of The Moon.)
The reveal also explained that test pressings of vinyl had been ordered and came via social media in the midst of a series of photoshoots of Jayn Maiven and the rolling Cumbrian landscape.
Darkher's past works craft a gothic atmosphere in the truest literary sense, teetering between beauty and horror. Details of the coming full-length have yet to be defined, as a post on the artist's Instagram plainly described "more info on the release date as it's made available. Cover art and title will be announced in the coming months."
What is more interesting, however, is the list of thanks and acknowledgments to those who have supported and contributed to the coming work, which may give you some inkling of what to expect, with established names like Swedish neofolk musician Forndom, shoegaze/dreampop artist Daniel Land, classical and metal cellist Arianna Maysayeh, and violinist Lambert Segura among those credited. The as-yet-unnamed album is set for release in 2021 through Prophecy Productions.
Two New Tracks Emerge from Anilah's Chrysalis LP
While at first glimpse, artists like Anilah are more akin to the likes of Chelsea Wolfe or Lingua Ingnota than neofolk or other folkish genres, the innate blend of ancestry, mysticism, and musical authenticity at work here mean this musical ode to the process of becoming toes a line between many worlds. That is part of what makes the recent twin single release from the upcoming album Chrysalis so interesting.
Inspired by Carl Gustaf Jung, Anilah is the work of Dréa Drury, a vocalist and composer based in the Selkirk Mountains of Western Canada, who aims to aid listeners through catharsis and transformative experiences. Those in the know may recognize Dréa from her collaborative turn providing vocals for notable folk act Osi and The Jupiter on their recent single Wights.
As you might expect from tracks plucked from an album titled Chrysalis, the act of becoming requires the shedding of the past. 'The Loom' and 'Ineffable' are two songs that deal with an almost religious ritual of reprocessing memory through a lens of Jungian psychology, including the threads of fate, ancestry, seeking to undo spells, and to know the unknown. 'Ineffable' quickly becomes chant-like amid swirling textural soundscapes, while the rhythm, percussion, and lyrics add a distinct primal vibe.
Anilah's upcoming album Chrysalis is set for a September 6 release while singles 'The Loom' and 'Ineffable' are available now on Bandcamp.
Fornsken's Latest Is Available Everywhere
Seeing its first release in March of this year, Nordic folk project Fornsken ("ancient shimmer") hails from the deep forests of Sweden's Värmland. Its creator, Andreas Axelsson, has released the latest chapter in a series of full-length albums inspired by the characteristics of the Elder Futhark runes.
Speaking of his recently released LP Galder Jag Kväda Kan on Facebook, Axelsson explained "This is the release that's going to close the chapter of the elder futhark runes, to go headfirst into a new direction." A 2 years milestone for both the project and artist, Axelsson continued, "I am very proud and happy to have been able to do this, and finally getting it out there. This is something I've wanted to do for a very long time and it has been a fantastic time writing these three albums. I've evolved as both a musician and individual during these releases."
An atmospheric and spacious listen, Galder Jag Kväda Kan is an album best enjoyed if you take the time to let the following thoughts and spells brew, so as Fornsken suggests; grab a cup of coffee, listen, and let it all sink in. The album is available now on all major streaming platforms
A selection of the above-mentioned tracks has, as always, been added to the Kurgan Compass™ Spotify playlist which readers can listen to here.